Nature of planet Earth is beautiful and can be very pleasant for human to be there. But, in the same time her nature is amazing by complexity and simultaneously touched by her beauty. But oh my goodness, she's also powerful and can destroy so easy and in a split second all kind of happiness and satisfaction of people. WajahAsia Photographer
A small part of the Dutch landscape has windmills for generating environmentally friendly power





Japan is hit by the worst earthquake in 1200 years.
The quake was immediately followed by a tsunami large parts of the northeast of the country has put under water. Huge waves dragged houses, cars and trucks with them.
The death toll is still increasing.





From: Rachel Yosi, catleiya@yahoo.com to: wajahasia@gmail.com date: 7 november 2010 09:12
Subject: Merapi eruption

Dear ..Bert
Well thx so much for your message ...Solo is save so there is nothing happened to worried me and my family all is fine Btw i send you some photos but this is not my collection actually but it belong to my friend hope can help you...
Cheers
rachel

Dear Rachel,
Many thanx for these very impressive pictures.We are grateful to you and your friend. Please bring also our thanx and greetings to your friend.

Terima kasih banyak.
WajahAsia
RoadPhotographer





Dear Bert,

Here are my pic (last night) so u can imagine what happened to me and my friend. I didnt bring my pocket camera, I shot with my Nokia phone camera. U can see the cold lava in the Yogya river (maybe the pic was too dark). Now,we have to help people in near Merapi. Goverment asked us to help them by giving food.

Some days before we've got hard rainy days in Yogya.By my own experience I know it is a disaster in the
periode of january, february and march. Without any sign it is there. The roads are no roads anymore. They changed in hard raging rivers and the people have to live with.

Photography: Miss Fetty Indaryati

So longgggggg
Secr. Fetty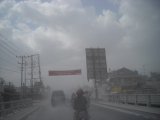 It looks like a simple 43 km motorbike trip or like a simple one hour motorbike trip. Normaly more faster like 45 minutes. But oh my goodness it wasn't so simple. After all those Merapi eruptions, during oct./nov. in 2010, also this Jawa Tengah area get's Merapi (glowing) ashes. Many landscapes are destroyed and still grey coloured. Lorries, motorbikes, cars, busses, bicyclists and pedestriangs passing this road. So there is a lot of travel. Beside the road the disaster is still there. Hardened blocs of Merapi ashes are very close near the road. At the top of the two meter big ones are kids playing. Everywhere we see grey dust, Merapi dust. Even many hard rainy days couldn't clean the country. It will take months and months. The disaster is here, in Jawa Tengah. Now I am on my way with my friend to my parents and WajahAsia Magelang team by motorbike. It takes already 90 minutes.
Thanks for watching my pics.
The areas around Jakarta such as Tanggerang, Bogor and Bekasi which usually help as secondary water catchment areas have also been developed with break neck speed and also send their water down to Jakarta during heavy rains of their own.
The 13 rivers that cross Jakarta are also in a bad shaped. Those rivers are getting narrower and shallower due to illegal housing and garbage. For example the Ciliwung River has only 17 percent of its actual capacity while Pessangrahan River has only 21 percent of its actual capacity.
The around 115 lakes spread around Jakarta does not fare better. They are also narrowing and shallowing with at least one lake in Jonggol completely disappeared and turned into a football field.
Video: Thousands flee from Jakarta floods (ABC News)
Related Story: Jakarta sinking as water supplies dry up
https://www.google.nl/search?num=10&hl=nl&site=imghp&tbm=isch&source=hp&biw=1280&bih=683&q=Jakarta+flood
MANILA, Philippines (UPDATED) – Six areas in the National Capital Region were placed under a state of calamity Tuesday, August 20, as the combined effects of the southwest monsoon and tropical storm Maring (International name: Trami) submerged barangays in floodwater. As of 3:52 pm on August 21, the following cities and municipalities have declared a state of calamity:
Muntinlupa
Pateros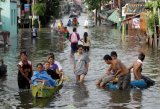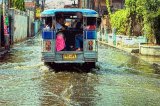 Parañaque
Malabon
Pasay
Marikina
The Department of Health on Tuesday, 6pm, raised a Code White status across all hospitals and health centers in Metro Manila and well as other areas affected by Maring. The alert is a signal for healthcare facilities to ensure that there will be a sufficient supply of medicines and an adequate number personnel who will attend to patients.



Previous

LOGIN
Please first reset password, before login!
Reset password
Click
here
to register
Online:
82 Guests, 0 Users

HITCOUNTER