In this Culture gallery: The Tantowi Yahya photo shoots at the end of 2010 during Pasar Malam in Belanda. The Masohi dancers. Dutch oldies are great. A non stop two hours live concert with old songs from the sixties. A short and quick visite to Genta Gitar Pabrik in Bandung http://www.gentaguitar.com/index.php. "Chinese new year". By car a cross the city to the foodfestival Surabaya. Oh my goodness gracious greatballs of fire. Miss Adex KuMala. When I entered a bank for shooting some pictures, she was behind the desk. In her free time she plays the guitar, keyboard and ofcourse she sings nicely. In her Metallica band she plays the electric guitar and use her voice too . Isn't that great?

Soerabaya Culinair Festival
Tunjungan Culinary Festival for anniversary
In and around Surabaya Town Square and other places and streets there are many variant resto choice inside with a valuable price, live music performance, and you can find a movie theater there. I like the open air ambience, the view, cleaness, and large parking space. This is a nice outdoor place to hangout with your friends or family. There are many stalls selling many kinds of food. Or you can just take a stroll a long the way. For those, who come to Eastern Surabaya, should visit this place to enjoy the culinary in Surabaya. It opens at abt. 06:00 PM until midnight. There is also a shopping center nearby and a cinema It been a nice place to stay during business trip and by holliday as well.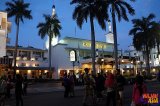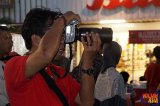 In the old heart of surabaya, Tunjungan plaza is interwoven with 3 star hotels. The shopping center consists of 6 buildings. But in the street You can find a lot of food variety in this area. But it can get pretty hot and a lot of mosquitoes. Be sure to bring a lotion. The National Exhibition on Food & Beverage Products, Ingredients, Technology and Services
Food Indonesia is an international exhibition which provides quality and variety in the fields of food and beverage, hotel equipment and catering together with processing and packaging. The meeting provides a priceless educational experience and an opportunity to network with top minds in the field, as well as a global community of more than 12000 business and food.
Road Photographer
WajahAsia
Sapu Lidi
Sapu Lidi (Bahasa Indonesia for a traditional broom) is a well-known holiday residence in Lembang.
The residence known for its great landscape and cultural-historical value is located north of Bandung, on West Java in Indonesia. It includes a restaurant, café and hotel accommodation. The residence known for its great landscape and cultural-historical value is located north of Bandung, on West Java in Indonesia. It includes a restaurant, café and hotel accommodation. The area is an example of an old cultural landscape designed according to a traditional model with a mixed function of traditional buildings, nature and original sawahs.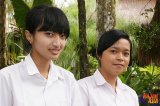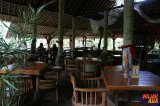 The entire site is freely accessible to visitors. There are small sawas (rice fields), small lakes and streams on the site and the complex is therefore in a natural green, water-rich environment. Like nearby The Peak and Kampung Daun, it is a well-known and popular location for photo sessions. Traditional West Javanese dishes are served in the restaurant. The meal is enjoyed in traditionally built cottages with thatched roofs or in the open air and people sit on the floor at low tables. The food is served in the traditional way in terms of layout and preparation. The resort consists of 25 hotel rooms that are housed in buildings executed in traditional architectural styles. The interior is decorated in the classic Javanese
Road Photographer
WajahAsia
Yogyakarta Taman Sari Photography
They never refused to give me 30 seconds of their private life. I'm talking about a lot of friendly people who posed for me. Now I visited Taman Sari in Yogyakarta. It's build in 1757 by Sultan Hamengku Buwono.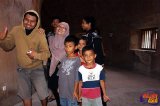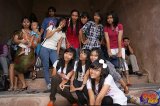 The style of the building is a mixture of Javanese and Portuguese architecture. At the east gate of the park stands two dragon statues marked 1682 and this being the Year According To Calendar When the Javanese Taman Sari was built.
All visitors were impressed by the style of the building at that time. So, maybe that's why they smilingly posed for me.
Road Photographer
WajahAsia
Gamelan music and dance
Gamelan is the traditional ensemble music of Javanese, Sundanese, and Balinese in Indonesia, made up predominantly of percussive instruments.The most common instruments used are metallophones played by mallets and a set of hand-played drums called kendhang which register the beat. For most Indonesians, gamelan is an integral part of Indonesian culture.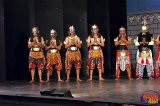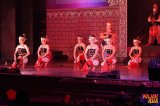 Javanese dance and its discipline has different styles and philosophy compared to other Indonesian dance traditions.
Unlike vigorous and expressive Balinese dance or cheerful and slightly sensual Sundanese dance, Javanese dance are commonly involving slow movements and graceful poses. Javanese dance have somewhat a meditative quality and tends to be more self-reflective, introspective and more oriented toward self-understanding.
Javanese dance is usually associated with Wayang wong, and the palaces of Yogyakarta and Surakarta due to the nature of dance being a pusaka or sacred heirloom from ancestors of the palace rulers.
These expressive dances are more than just dances, they are also used for moral education, emotional expression, and spreading of the Javanese culture.
Have fun
Road Photographer
WajahAsia
Cao Dai
The Cao Dai temple in Hue, Vietnam. "Cao Dai" literally means "high tower"; in this way reference is made to God. This belief is strongest in the Tay Ninh province and the Mekong Delta. Caodaism (Vietnamese: Đạo Cao Đài, Chữ nôm: 道高臺) is a monotheistic syncretic religion officially established in the city of Tây Ninh in southern Vietnam in 1926.
The full name of the religion is Đại Đạo Tam Kỳ Phổ Độ (The Great Faith [for the] Third Universal Redemption).
Cao Đài (Vietnamese: literally the "Highest Lord" or "Highest Power" is the supreme deity, believed by Caodaists to have created the universe. Caodaists often use the term Đức Cao Đài (Venerable High Lord) as the abbreviated name, whose full title is "Cao Đài Tiên Ông Đại Bồ Tát Ma Ha Tát" ("The Highest Power [the] Ancient Immortal [and] Great Bodhisattva").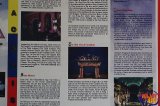 The symbol of the faith is the Left Eye of God, representing the yang (masculine, ordaining, positive and expansive) activity of the male creator, which is balanced by the yin activity of Mother Goddess, the Queen Mother of the West (Diêu Trì Kim Mẫu, Tây Vương Mẫu), the feminine, nurturing and restorative mother of humanity. Adherents engage in practices such as prayer, veneration of ancestors, nonviolence, and vegetarianism with the goal of union with God and freedom from saṃsāra.Estimates of the number of Caodaists in Vietnam vary; government figures estimate 4.4 million Caodaists affiliated to the Cao Đài Tây Ninh Holy See, with numbers rising up to 6 million if other branches are added
An additional number of adherents in the tens of thousands, primarily ethnic Vietnamese, live in North America, Europe, and Australia.The Cao Dai temple in Hue, Vietnam. "Cao Dai" literally means "high tower"; in this way reference is made to God. This belief is strongest in the Tay Ninh province and the Mekong Delta ...
Road Photographer
WajahAsia
wat-sothon-wararam-worawihan
Wat Sothonwararam is a temple in Chachoengsao Province, Thailand. Located in the Mueang Chachoengsao Municipality along the Bang Pakong River, it was initially called "Wat Hong" and was built in the late Ayutthaya period.
The temple has the "Luangpho Phuttha Sothon," the revered Buddha image of Chachoengsao province, which is 1.48 meters high, with a lap width or 1.65 meters.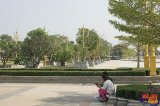 Address: 134 Thep Khunakon Rd, Na Mueang, Mueang Chachoengsao District, Chachoengsao 24000, Thailand
Telephone: +66 38 511 048. Function: Temple
Have fun
Road Photographer
WajahAsia

Masohi dancers
August 29 Zeewolde Pasar Belanda. The Masohi dancers performe a nice show.
Please enjoy and take a look for the pictures





Have fun
Road Photographer
WajahAsia

Genta Gitar Pabrik
This little gitar pabrik makes really very good quality and nice designed gitars. I bought a classic one. Please take a look
by your self, go to Gitar Genta Showroom




My special thanks goes to Mr. Awan Nasution and his fellow-workers and employees for their time and warm reception.
Address: Jl. Moch. Ramdan No.106, Ciateul, Kec. Regol, Kota Bandung, Jawa Barat 40252, Indonesië
Telefoon: +62 22 5201674
Terima kasih Banyak
Road Photographer
WajahAsia

Chinese New Year
3 february is "Chinese new year". Here some nice pictures from Yogyakarta secretary Miss Fetty.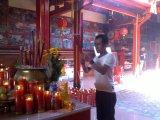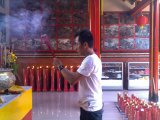 Enjoy this gallery.
Road Photographer
WajahAsia

Surabaya Foodfestival
By car a cross the city to the foodfestival Surabaya Indonesia. Oh my goodness gracious greatballs of fire.
Again nice surprising pictures of people on the road. And the food? It was great, so much food, such different food and the taste? Hahaha, really very nice. Termia kasih banyak Foodfestival



Enjoy this gallery
Road Photographer
WajahAsia

Kuta, Bali Festival.
Kuta, 06-03-2011 - Deny, Bali Ogoh 2 Festival. These photographes were shot by WajahAsia road photographer for Bali Island Miss Jani Sumar (nickname Denny). WajahAsia has permission for publication.




Enjoy this gallery
Road Photographer
WajahAsia
Sixties Generation The first life concert in Amersfoort, 05-09-2010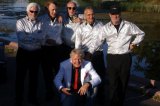 Sixties Generations two hours non stop live concert. Even it was summer because the month of may still it was cold, glowdy and windy. But ofcourse like in the sixties, nice to hear the old ballads, rock & roll and sound from The Beatles, Rolling Stones, Elvis Presly, Cliff Richard, Everly Brothers, Ray Charles and The Shadows instrumentals.
Road Photographer
WajahAsia

Yogyakarta, Ismail abu Fajri - Budaya Jawa
Kesenian Jathilan ( kuda lumping ) adalah sebuah kesenian asli Indonesia(Jawa).
Kesenian ini menggabungkan antara seni tari dengan beberapa unsur magis, dimana penari dapat melakukan hal-hal yang di luar kesadarannya.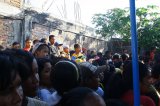 Dalam keadan tersebut sering penari memakan pecahan kaca, paku, mengupas sabut kelapa dengan giginya, dan hal-hal lain yang tidak mungkin dilakukan oleh manusia dalam keadaan sadar.
Road Photographer
WajahAsia

Flamboyan festival Jakarta Indonesia
Dear Mr.Bert Labrie
Managin Director
WajahAsia
I hereby want to envy some examples of photographs that I took at the Flamboyan FESTIVAL 2011 JAKARTA contents of the image increases the value of arts and culture Jakarta betawi or both dance and drama and culinary and entertainment in lenong betawi coordinator by myself.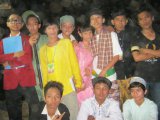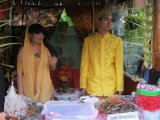 Hopefully this photo in a new photowebsite WajahAsia
Thanks
Tajudin Abdullah
teje_mahesa@yahoo.com

Yogya's birthday, carnival time
And in a split second the carnival was there. Nice dressed girls, boys, ladies and gentleman passed the Madé café & restaurant, in JL. Parangtritis nr. 64 B. Accompanied by pleasant music, they passed in convoy.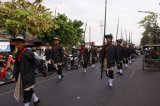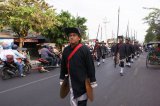 And yes, some saw that I photographed. They gave me their smile. Hahahaha they made a traffic jam in Jl. Parangtritis. But nobody was angry because everybody loves carnival. So did I.
Enjoy
WajahAsia
Road Photographer

Miracle of World
My Indonesia friend Miss Mirna Widyawati from Semarang has sent me these nice photographs titled "Miracle of World". Well, that's the right title for these nice pictures. If you have some, please send to WajahAsia.
Thank you.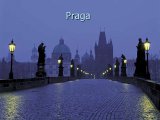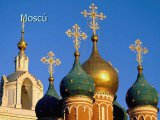 Enjoy
Road Photographer
WajahAsia

Citadel Hue city VietNam
http://en.wikipedia.org/wiki/Hu%E1%BA%BF Huế is the capital city of Thua Thien – Hue province, Vietnam. Between 1802 and 1945, it was the imperial capital of the Nguyen dynasty. Its population stands at about 340,000. In Sino-Vietnamese script, used until 1945, the name of the city is written.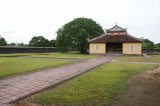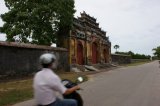 Huế originally rose to prominence as the capital of the Nguyễn Lords, a feudal dynasty which dominated much of southern Vietnam from the 17th to the 19th century. In 1775 when Trịnh Sâm captured it, it was known as Phú Xuân. In 1802, Nguyễn Phúc Ánh (later Emperor Gia Long) succeeded in establishing his control over the whole of Vietnam, thereby making Huế the national capital.
Enjoy
Road Photographer
WajahAsia

Jakarnaval, Jakarta Indonesia
Pictures from: Jakarnaval in Jakarta Indonesia. Date: 28 june 2013
Photographer: Miss Maulina Rostiawati. Camera: Samsung tablet
Editing: WajahAsia in Photo. DeLuxe and Fireworks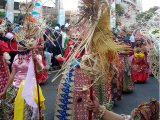 Enjoy
Road Photographer
WajahAsia

Traditional Kayan women symbolically culture
(Burma Laos Thailand Tibetan) Kayan people Burma
List of ethnic groups in Burma The Kayan are a subgroup of the Red Karen (Karenni) people, a Tibeto-Burman ethnic minority of Burma (Myanmar). The Kayan consists of the following groups: Kayan Lahwi (also called Padaung, ပဒေါင် [bədàʊɴ]), Kayan Ka Khaung (Gekho), Kayan Lahta, Kayan Ka Ngan. Kayan Gebar, Kayan Kakhi and, sometimes, Bwe people (Kayaw)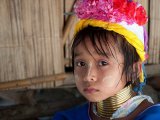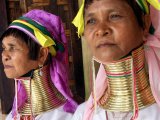 Padaung (Yan Pa Doung) is a Shan term for the Kayan Lahwi (the group whose women wear the brass neck coils). The Kayan resident in Mae Hong Son Province in Northern Thailand refer to themselves as Kayan and object to being called Padaung. In The Hardy Padaungs (1967) Khin Maung Nyunt, one of the first authors to use the term "Kayan", says that the Padaung prefer to be called Kayan. On the other hand, Pascal Khoo Thwe calls his people Padaung in his 2002 memoir, From the Land of Green Ghosts: A Burmese Odyssey.
Enjoy
Road Photographer
WajahAsia

Quan ho Traditional Vietnamese folk song
More about "Quan Ho"
Quan họ singing is a Vietnamese folk music style characterized both by its antiphonal nature, with alternating groups of female and male singers issuing musical challenges and responses, and by the fact that most of the songs in the repertoire deal with topics of love and sentimentality as experienced by young adults.[1]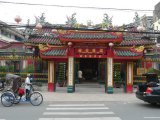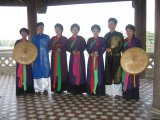 Quan ho is recognised as the Intangible Cultural Heritage by the UNESCO in 2009.[2] The quan họ style originated in what is now Bắc Ninh Province and was first recorded in the 13th century, and has traditionally been associated with the spring festivals that follow the celebration of Tết (the Vietnamese New Year). Historically, the singing began on the evening before the festival, but today it is much more common for the singing to occur on the main day of the festival.
Enjoy
Road Photographer
WajahAsia

Ca Huế Traditional Vietnamese folk song
The "Huế songs" genre, ca Huế (歌化), or sometimes ca huế, is a form of classical Vietnamese music of Central Vietnam, particularly the Huế region. It contrasts with ca trù (歌籌) genre to the North, and the tài tử (才子) "gifted scholar" style to the South.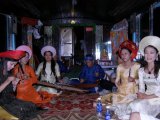 The singer sings solo, as in the ca trù genre, accompanying herself with small wooden clappers, sometimes similar to the phách sticks used in ca trù, sometimes shaped like small teacups. Before and between the solo songs a traditional ensemble will play instrumental sections to complement the singer. The ca huế ensemble should be of five excellent instruments, ngũ tuyệt.
Enjoy
Road Photographer
WajahAsia

Loi Krathong Thai festivals
On the full moon night of the twelfth lunar month, the tide in the rivers is highest and the moon at its brightest, creating a romantic setting ideal for lovers. The Thai people choose this day to hold the 'Loy Kratong' festival, or the 'festival of light.' Loy Kratong is one of the two most recognized festivals in the country.
http://en.wikipedia.org/wiki/Loi_Krathong
http://www.chiangmai-chiangrai.com/loy_krathong_festival.html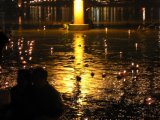 Loy Kratong is probably the most picturesque and beautiful of all Thai celebrations. 'Loy' literally means 'to float,' while 'kratong' refers to the lotus-shaped receptacle which can float on the water. Originally, the kratong was made of banana leaves or the layers of the trunk of a banana tree or a spider lily plant. A kratong contains food, betel nuts, flowers, joss sticks, candle and coins. The making of a kratong is much more creative these days as many more materials are available.
Enjoy
Road Photographer
WajahAsia

Previous

LOGIN
Please first reset password, before login!
Reset password
Click
here
to register
Online:
15 Guests, 1 User
DerikKata

HITCOUNTER