Asian countries have their own fashion. This gallery is chiefly looked back to traditional national and provincial fashion and that could even fall term "culture". But modern fashion we will definitely present in this gallery.
We hope you enjoy.
Road Photographer
WajahAsia

Tempo Doeloe
The time span is also described as Tempo Doeloe (Tempo Dulu) the years between 1870 and 1914, the old days of the past.There is a difference between female and male clothing. Years ago the Balinese wore nothing for their upper body,
but nowadays the women waer Kebaya, Indonesian National Ladies Costume, and the men wear a shirt with a collar.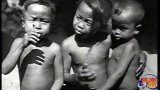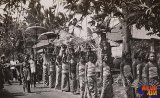 In that period they were mainly Balinese women in the countryside and in Sri Lanka who did not cover the upper body.
The appearance of Balinese clothing has changed, but the value that it offers as a symbol to honor Sang Hyand Widhi remains unchanged. The traditional clothing is very easy to wear and there are numerous stores where you can buy this clothing.
Author: Tim Driessen
Road Photographer
WajahAsia
Ao Dai Traditional Vietnamese costume
The áo dài is a Vietnamese national costume, now most commonly worn by women.
In its current form, it is a tight-fitting silk tunic worn over pantaloons. The word
is pronounced in the North and in the South. Áo classifies the item as a piece of clothing. Dài means "long". The word "ao dai" was originally applied to the outfit worn at the court of the Nguyễn Lords at Huế in the 18th century. This outfit evolved into the áo ngũ thân, a five-paneled aristocratic gown worn in the 19th and early 20th centuries.
Inspired by Paris fashions, Nguyễn Cát Tường and other artists associated with
Hanoi University redesigned the ngũ thân as a modern dress in the 1920s and 1930s.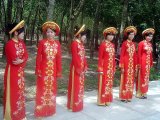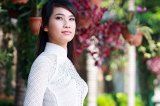 The updated look was promoted by the artists and magazines of Tự Lực văn đoàn as a national costume for the modern era. In the 1950s, Saigon designers tightened the fit to produce the version worn by Vietnamese
women today. The dress was extremely popular in South Vietnam in the 1960s and early 1970s. On Tết and other occasions, Vietnamese men may wear an áo gấm, a version of the ao dai made of thicker fabric. Academic commentary on the ao dai emphasizes the way the dress ties feminine beauty to Vietnamese
nationalism, especially in the form of "Miss Ao Dai" pageants, popular both among overseas Vietnamese and in Vietnam itself. "Ao dai" is one of the few Vietnamese words that appear in English-language dictionaries.
Enjoy
Road Photographer
WajahAsia
Ao Yem Vietnamese costume
A yếm (Vietnamese: is a traditional Vietnamese bodice used primarily as an undergarment that was once worn by Vietnamese women across all classes. There exists a modern variant called the áo yếm, but the historical garment was simply called a yếm. It was most usually worn underneath a blouse or overcoat, for modesty's sake. It is a simple garment with many variations from its basic form, which is a simple, usually diamond or square-cut piece of cloth draped over a woman's chest with strings to tie at the neck and back.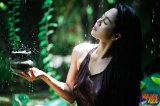 The yếm originated from the Chinese dudou, a variant of similar undergarments used in China since antiquity whose use spread under the Ming and Qing dynasties. It became popular in northern Vietnam. Unlike other Vietnamese clothing that helped to segregate the classes, the unseen yếm were worn as an undergarment by Vietnamese women of all walks of life, from peasant women toiling in the fields to imperial consorts. It is an integral part of the áo tứ thân costume, which it is often worn underneath. The skirt which is worn with the yếm is called váy đụp.
Enjoy
Road Photographer
WajahAsia

Miss Vanganh Pham in VietnameseTraditional Costume
She was born and raised in Hải Phòng, works as a receptionist in a large store in Ho Chi Minh City, all in VietNam, and has the leisure spending posing as a photo model. This time Miss Vanganh Pham poses in her own traditional Vietnamese costumes. Her Ao Yem costume is brown / black colored while her Ao Dai costume is black and white. Hahaha oohhhh this goodlooking lady is still single gentleman so you can contact her. Enter her gallery and enjoy


Contact info
Fullname: Miss Vanganh Pham
Place and date of birth: Hải Phòng / 10 february 1984
Education: College of labour social
Email address; Vanganh10284@gmail.com
Facebook address: https://www.facebook.com/dan.dang.37669
Facebook name: Vanganh Pham
Enjoy
Road Photographer
WajahAsia
Burka by Muslim women
Burka or burqa may refer to: Burqa, a full body cloak worn by some Muslim women; Burka (Caucasus) a traditional man's coat made from felt or karakul; Burqa. The burqa, burka or burqa (Arabic: is a garment that is worn mainly by (strict) Muslim women. The burqa covers the entire body.





The burqa is the Afghan version of the chador. At the burqa, however, the eyes are not visible, which is in contrast to the chador that the face it is quite late. The woman looks at a burqa by a kind of mesh, thus it can look for yourself can be. Viewed not http://en.wikipedia.org/wiki/Burqini
http://nl.wikipedia.org/wiki/Boerka_%28islam%29
Enjoy
Road Photographer
WajahAsia

Vietnamese Traditional Costume
In fact, nobody knows the original history of Ao Dai (Áo Dài). There was no evidence which says about where and when the Ao Dai appeared. At the beginning, we don't know what was the real design of Ao Dai. Researchers show that the Ao Dai (Áo Dài) stared to be wore thousand years ago.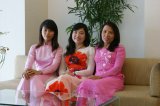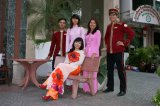 This photo shoot was realized in collaboration with:
Miss Ngoc Phuong Tran, Miss Thao Dang Ngoc Phuong and Miss My Di
http://www.vietnamitasenmadrid.com/2011/05/vietnamese-dress-ao-dai-ao-dai.html
Enjoy
Road Photographer
WajahAsia

Ao Ba Ba Traditional Vietnamese costume
Áo bà ba - Wikipedia
It is simply consists of a pair of silk pants and a long-sleeved shirt with two flaps split equally at the two sides of the waist. The front part of the shirt is usually decorated with a middle button line and two pockets at the bottom. This costume is made of silk or soft fabrics and has versatile design varying with the colors used to make this attire.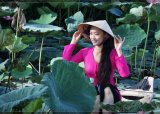 Áo bà ba (or Vietnamese silk pajamas) is a traditional Vietnamese costume. It is most associated with southern Vietnam, especially in rural areas. The áo bà ba ...
Enjoy
Road Photographer
WajahAsia
Kebaya National and Traditional Indonesia costume
Kebaya is a traditional blouse-dress combination that originates from Indonesia and worn by women in Indonesia, Malaysia, Brunei, Burma, Singapore, southern Thailand, and the Southern part of the Philippines. It is sometimes made from sheer material such as silk, thin cotton or semi-transparent nylon or polyester, adorned with brocade or floral pattern embroidery. Kebaya usually worn with a sarong or batik kain panjang, or other traditional woven garment such as ikat, songket with a colorful motif.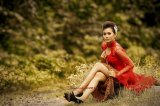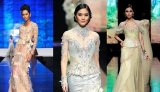 The kebaya is the national costume of Indonesia, although it is more accurately endemic to the Javanese, Sundanese and Balinese peoples.http://en.wikipedia.org/wiki/Kebaya
Enjoy
Road Photographer
WajahAsia
Traditional Indonesia Kebaya Glamour





Enjoy
Road Photographer
WajahAsia

Batik Javanese Traditional and Indonesia costume
Batik is a cloth that is traditionally made using a manual wax-resist dyeing technique. Javanese traditional batik, especially from Yogyakarta and Surakarta, has notable meanings rooted to the Javanese conceptualization of the universe. Traditional colours include indigo, dark brown, and white, which represent the three major Hindu Gods (Brahmā, Vishnu, and Śiva). This is related to the fact that natural dyes are most commonly available in indigo and brown. Certain patterns can only be worn by nobility; traditionally, wider stripes or wavy lines of greater width indicated higher rank. Consequently, during Javanese ceremonies, one could determine the royal lineage of a person by the cloth he or she was wearing.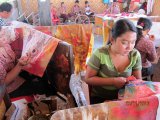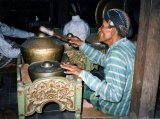 Other regions of Indonesia have their own unique patterns that normally take themes from everyday lives, incorporating patterns such as flowers, nature, animals, folklore or people. The colours of pesisir batik, from the coastal cities of northern Java, is especially vibrant, and it absorbs influence from the Javanese, Arab, Chinese and Dutch cultures. In the colonial times pesisir batik was a favourite of the Peranakan Chinese, Dutch and Eurasians.
http://en.wikipedia.org/wiki/Batik
Enjoy
Road Photographer
WajahAsia

Pa Then Ethnic Group costume Vietnam
PA THEN ETHNIC GROUP. Proper name: Pa Then Other names: Meo Lai, Meo Hoa, Meo Do
Population: 3,700 people (General Statistics Office 2009). Costume: Men wear blouses, indigo trousers with overturned belt, wrap up long turban. The unique features of Pa Then costume is Pa Then women's clothing that is expressed in the way of oriental robe style, color and dressing creating a unique style.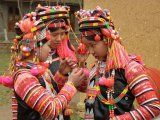 Pa Then women put on indigo turban wrapped in rounds on their head. There are two basic types of short and long sleeved- shirts. Topless short sleeved shirts and long sleeved shirts. Topless short sleeved shirts has low collar in indigo color and attached to two front flaps. Historical Origin: According to legend, Pa Then people lived in Than Lo (China) and then to moved to Vietnam by crossing the sea with Dao people about 200 years ago.
Place of residence: Pa Then people mainly live in communes of Ha Giang and Tuyen Quang provinces.
Gia Hung
The Colourful Palette of Pa Than Traditional Clothing Pathan-women costume
http://dantocviet.vn/Content.aspx?sitepageid=340
Enjoy
Road Photographer
WajahAsia

Hijab Traditional Muslim Female costume
http://en.wikipedia.org/wiki/Hijab "Hijab" or "ḥijāb" is a veil that covers the head and chest, which is particularly worn by a Muslim female beyond the age of puberty in the presence of adult males. Including Miss Bharbhie
Just'Voo Chabhie and friends in: Finalis Miss Hijab 2014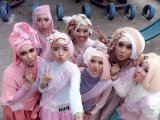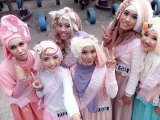 It can further refer to any head, face, or body covering worn by Muslim women that conforms to a certain standard of modesty. It not only refers to the physical body covering, but also embodies a metaphysical dimension, where al-hijab refers to "the veil which separates man or the world from God. Hijab can also be used to refer to the seclusion of women from men in the public sphere. Most often, it is worn by Muslim women as a symbol of modesty, privacy and morality.
Enjoy
Road Photographer
WajahAsia

Sarong International Asian costume
A sarong or sarung meaning "sheath" in Indonesian and Malay is a large tube or length of fabric, often wrapped around the waist and worn by men and women throughout much of South Asia,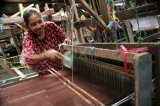 Southeast Asia, the Arabian Peninsula, the Horn of Africa, and on many Pacific islands. The fabric most often has woven plaid or checkered patterns, or may be brightly colored by means of batik or ikat dyeing. Many modern sarongs have printed designs, often depicting animals or plants.
http://en.wikipedia.org/wiki/Sarong
Enjoy
Road Photographer
WajahAsia

Ao tu than Traditional Vietnamese costume
The áo tứ thân or "4-part dress" is one of several traditional Vietnamese costumes. It is related to the áo ngũ thân which translates as "5-part dress. The áo tứ thân was the dress of peasant women, which explains why it was often made with plain fabric in dark colors, except when it was to be worn at special occasions such as festivals or weddings. Regardless of its many different forms, the basic Áo tứ thân consists of: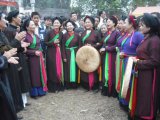 A flowing outer tunic, reaching almost to the floor. It is open at the front, like a jacket. At the waist the tunic splits into two flaps: a full flap in the back (made up of two flaps sewn together) and the two flaps in the front which are not sewn together but can be tied together or left dangling. A long skirt, worn under the tunic.
Enjoy
Road Photographer
WajahAsia


Nón Lá Traditional Vietnamese braided leaf hat
Origin of the Nón Lá Vietnam is a tropical country characterized both with rainy and dry seasons. Clearly, Nón Lá is essential for the people to protect themselves from heat which could last for months, and sometimes even reaching 40 degrees Celsius in intensity, and also during long periods of enduring rain.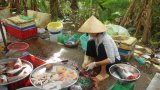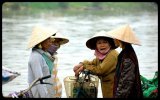 Travelling along Vietnam, tourists are likely to catch sight of local ladies donning "non la" (so called "conical leaf hat") and walking gracefully along the streets or sailing along wide rivers. In harmonious combination with Ao Dai- Vietnamese women's traditional dress, "non la" creates charming and romantic beauty leaving deep impressions on any tourists who visits this S-shaped strip of land.
Vietnam Non La
http://vietnameseartwork.com/itemList.aspx?CategoryID=520
Enjoy
Road Photographer
WajahAsia

Topi Caping Traditional Indonesian braided leaf hat
Indonesian woman wearing a traditional topi caping straw hat, Ubud, Bali, Indonesia, Southeast Asia. Salakot is a Filipino term for a wide brimmed hat just like the "non la" of Vietnam, "ngop" of Thailand, "topi caping" of Indonesia. It could be made of bamboo, rattan, palm leaves, waxed paper or lately even plastic.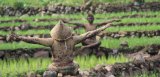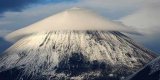 They could be woven, sewn or plaited. They could be plain, elaborate, dyed, painted or with cut outs. They could be simple and utilitarian. They could be elaborate and decorative. Please login and post your hat photos and indicate how they are called in their place of origin. Traditional Indonesian straw hat pictures Bali Indonesia Rice Fields http://en.wikipedia.org/wiki/Indonesia
Enjoy
Road Photographer
WajahAsia

Phan Thi Mo in Traditional & Modern Vietnamese Costume
Miss Phan Thi Mo in the beautiful city, in robe flying on grass, near river water, on boats located on the cliff, shy in tunic. New Year, with 'boyfriend' to the temple for good luck. The beautiful Miss Vietnam 2012 on the gentle Vietnamese Truong Phong editor to the temple on the occasion of the New Year.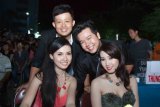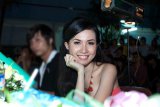 Miss Phan thi Mo in bikini 1 Miss Phan thi mo promotion 2
Miss Phan thi mo miss asia 3 Miss Phan thi mo Miss earth 4
Miss Phan thi Mo movie marketing 5
Tin liên quan
Phan Thị Mơ xinh tươi trên phố (22/6) Phan Thị Mơ áo dài tung bay trên đồng cỏ (15/5)
Phan Thị Mơ điệu đà bên sông nước (15/3) Phan Thị Mơ nằm cheo leo trên ghe thuyền (26/2)
Phan Thị Mơ e ấp áo dài chào năm mới (1/1) http://ngoisao.net/nguoi-dep-phan-thi-mo/tag-208791-1.html
Facebook name: Phan Thị Mơ
Enjoy
Road Photographer
WajahAsia
Geisha Fashion
The forerunners of the female geisha were the teenage odoriko
("dancing girls"): expensively trained as chaste dancers-for-hire. In the 1680s,
they were popular paid entertainers in the private homes of upper-class samurai,
though many had turned to prostitution by the early 18th century.
Those who were no longer teenagers adopted other names—one being "geisha", after the male entertainers.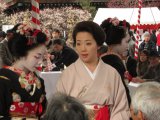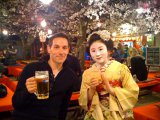 The first woman known to have called herself geisha was a Fukagawa prostitute, in about 1750.
She was a skilled singer and shamisen-player named Kikuya who was an immediate success, making female geisha extremely popular in 1750s Fukagawa.
As they became more widespread throughout the 1760s and 1770s, many began working only as entertainers (rather than prostitutes) often in
the same establishments as male geisha.


Previous

LOGIN
Please first reset password, before login!
Reset password
Click
here
to register
Online:
22 Guests, 0 Users

HITCOUNTER