In this Architecture gallery you will find notable buildings from the past and present such as hotels, airports, churches and temples, shopping centers (malls), office buildings, stadiums etc.. They are homemade photos or shot by WajahAsia photographers or links to websites. Best Regards Managing Director WajahAsia http://wajah.asia http://www.wajah.asia Photographer WajahAsia

Tunnel complex of Cu Chi Vietnam Long the road to Tay Ninh, about 35 km northwest of Ho Chi Minh City, is a giant underground tunnel complex serving as a shelter for the Viet Cong during the Vietnam War.
The first tunnels were digged here by the Viet Minh in the late 1940s and used in the struggle against the French.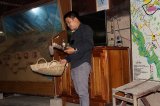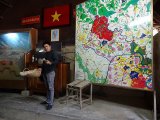 The Viet Cong expanded the tunnel system to a 250 km network! There is a complete underground city, with living and sleeping areas, warehouses, command posts, kitchens and operating rooms
Ho Chi Minh city Reunification Palace The Reunification Palace is a palace in Ho Chi Minh City, Vietnam. The construction took place in the period 1962 to 1966, according to a design by the Vietnamese architect Ngô Viết Thụ. Wikipedia
Address: 135 Nam Kỳ Khởi Nghĩa, Bến Thành, Quận 1, Hồ Chí Minh, Vietnam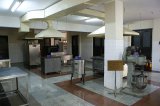 Opened: 31 October 1966
Height: 26 m
Opening hours: Open today · 07: 30-11: 00, 13: 00-16: 00
Architect: Ngo Viet Thu
G.H.Universal Hotel Bandung An amazing Indonesian high class hotel in full grey color




Grand Palace Hotel Yogyakarta A high class Chinese hotel in Roman style in Yogyakarta Indonesia



Hong Kong Airport The major Chinese airport with landing and runways in the sea



Guangzhou Airport International departure A second major Chinese airport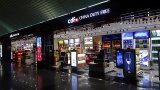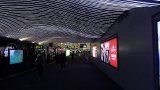 Jakarta Airport Halim Perdanakusuma International Terminal 2



Taman Sari, Yogyakarta Indonesia Taman Sari also known as Taman Sari Water Castle is a site of a former royal garden of the Sultanate of
Yogyakarta. It is located about 2 km south within the grounds of the Kraton, Yogyakarta, Indonesia.
Built in mid 18th century, the Taman Sari had multiple functions, such as a resting area, a workshop,
a meditation area, a defense area, and a hiding place.




Taman Sari consisted of four distinct areas: a large artificial lake with islands and pavilions located
in the west, a bathing complex in the centre, a complex of pavilions and pools in the south, and a smaller
lake in the east. Today only the central bathing complex is well preserved, while the other areas have been
largely occupied by the Kampung Taman settlement. Since 1995 the Yogyakarta Palace Complex including Taman Sari is listed as a tentative World Heritage Site.
http://en.wikipedia.org/wiki/Taman_Sari_%28Yogyakarta%29
Surya Hotel Semarang Indonesia A nice and good hotel in Semarang center



Jakarta Airport terminal 3 International departure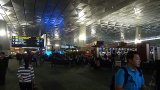 Previous

LOGIN
Please first reset password, before login!
Reset password
Click
here
to register
Online:
12 Guests, 2 Users
Davintub
,
DerikKata

HITCOUNTER